Nearly 1 in 10 newborns in Europe is admitted to a neonatal intensive care unit (NICU) in the first days of life, around 400,000 admissions every year.
In low and middle-income countries, the rate of hospital births is increasing, with more critically ill infants being cared for in dedicated care units.
While care in a neonatal unit results in a greater chance of survival in newborns with serious illness, it also increases the risk of exposure to bacteria from the hospital environment. These can cause serious infections in babies, which are commonly resistant to many routinely used antibiotics.
Premature babies are a particularly vulnerable population, because their immune system is immature, and their skin and mucosa are not yet effective barriers against infections. Those who are seriously ill need life saving devices and prolonged antibiotic treatments. All of these factors increase the risk of being colonized with antibiotic-resistant organisms.
Colonisation with resistant bacteria is a major problem for several reasons: the colonised babies are at higher risk of severe infection, but they are also a source of resistant bacteria being introduced to the hospital environment, which can potentially infect other babies in the unit.
NeoIPC is establishing innovative approaches for optimal infection prevention of resistant bacteria in NICUs by integrating clinical research, implementation science and surveillance.
The goals of NeoIPC are:
Develop and implement an innovative approach towards the evaluation of infection prevention and control interventions
Assess the effectiveness of interventions in a randomised controlled trial, while also ensuring identification of a suitable implementation strategy
Generate widely relevant and globally transferrable outputs to improve infection prevention and control in neonatal care
We want to develop a Neonatal Infection and Prevention Control (IPC) Research and Implementation Network. To do so, we:
Bring and connect units together in a global Clinical Practice Network
Encourage greater involvement of units in IPC planning and delivery
Improve dissemination of relevant tools and materials
Facilitate participation in surveillance of IPC processes and outcomes
We are building a platform for research into IPC interventions in neonatal intensive care. Our platform will:
Establish standard IPC assessments for quality improvement and research
Use innovative research methods to evaluate IPC interventions
Accelerate neonatal IPC evidence generation and implementation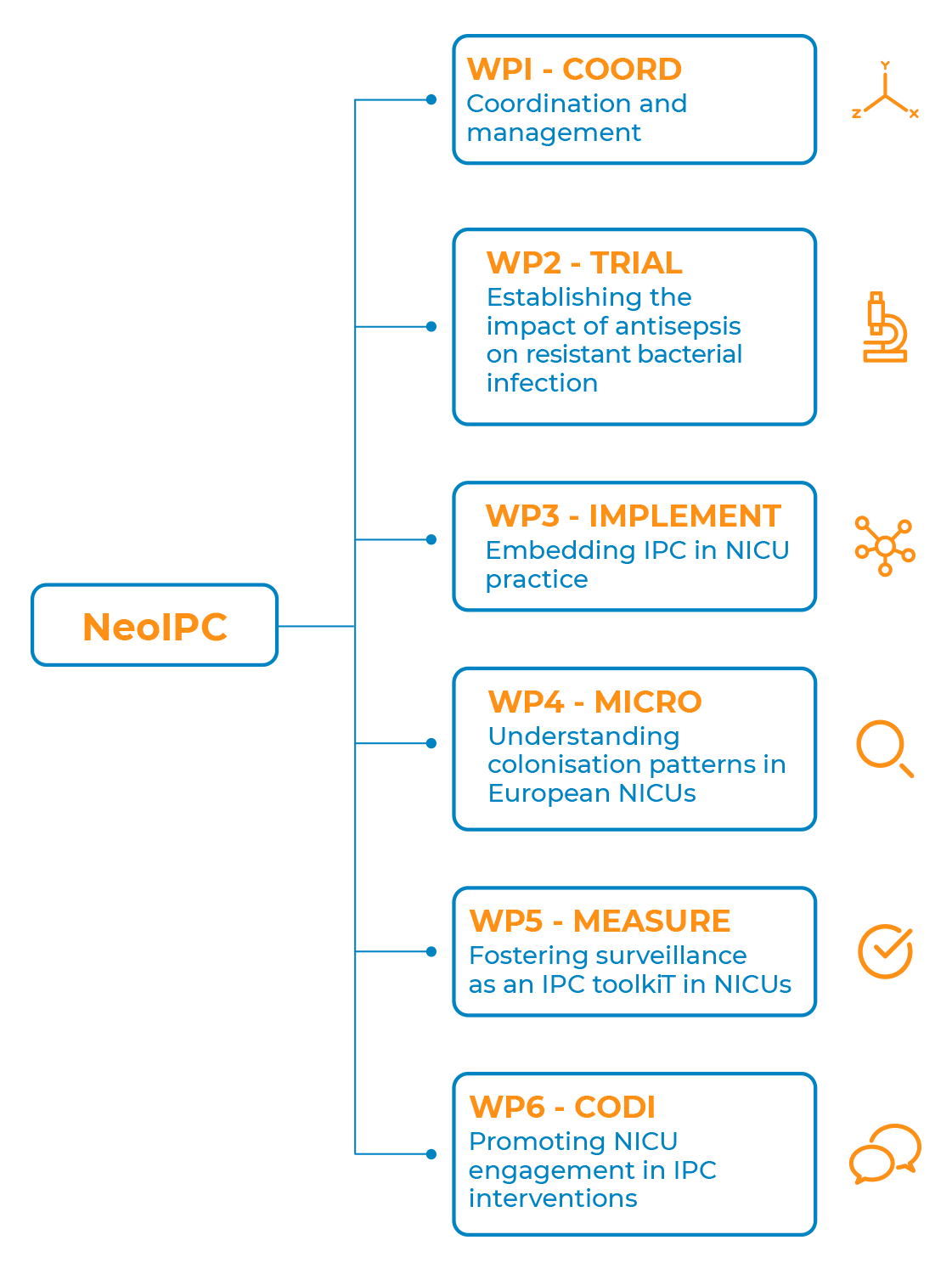 How can implementation science support better neonatal IPC? Listen to the WP3 leaders.
Prof. Lauren Clack, professor of implementation science in health care, and Marie-Therese Schultes, postdoctoral researcher at the University of Zurich, elaborate on the importance of implementation science to ensure that research findings are really being used to the benefit of patients and healthcare systems.
How can the microbiology lab support neonatal IPC? Gain insight on WP4.
Matilda Berkell, microbiologist at the University of Antwerp – Belgium, tells us about the help of microbiology in understanding the colonisation patterns in neonatal units.
What is the role of multi-centre surveillance in neonatal IPC? Listen to the WP5 leader.
Dr. Brar Piening, IPC doctor at Charité University Hospital in Berlin – Germany and lead of NeoIPC MEASURE Work Package, tells us about surveillance in the hospital settings and why we need it.
Improve availability of tested cost-effective models for prevention and treatment of bacterial infections in health care settings with high prevalence of resistant infections
Reduce the spread of resistant hospital-acquired infections in neonatal intensive care units and hospital settings
Generation of knowledge useful for other countries around the globe, including low-middle income countries, in order to benefit their local population and diminish the global spread of resistant bacteria